Craving Wellness
Regular price
Sale price
$61.00
Unit price
per
Sale
Sold out
Vitamin C is a powerful antioxidant that plays a key role in immune system function, collagen production, and healthy aging. Our Liposomal Vitamin C supplement is derived from a blend of Non-GMO L-Ascorbic Acid and Sodium Ascorbate. To create the perfect synergy, we added Biotin (Vitamin B7), one of nature's most beautifying vitamins that supports the production of proteins and enzymes that are needed for healthy skin, nails and hair growth.
Unlike a traditional oral vitamin C dietary supplement, our liposomal technology provides superior absorption, enabling effective high level dosing. Liposomal delivery can significantly improve the bioavailability of vitamin C (the rate at which it's absorbed by the body). In fact, its efficiency is close to the intravenous delivery of vitamin C in medical settings. It's never been easier to reap all the benefits of immunity and beauty in one.

Each package contains 30 individually packed servings.
Liposomal Vitamin C supplement may help with the following:
Support healthy aging
Boost collagen production
Support a healthy immune system
Share
View full details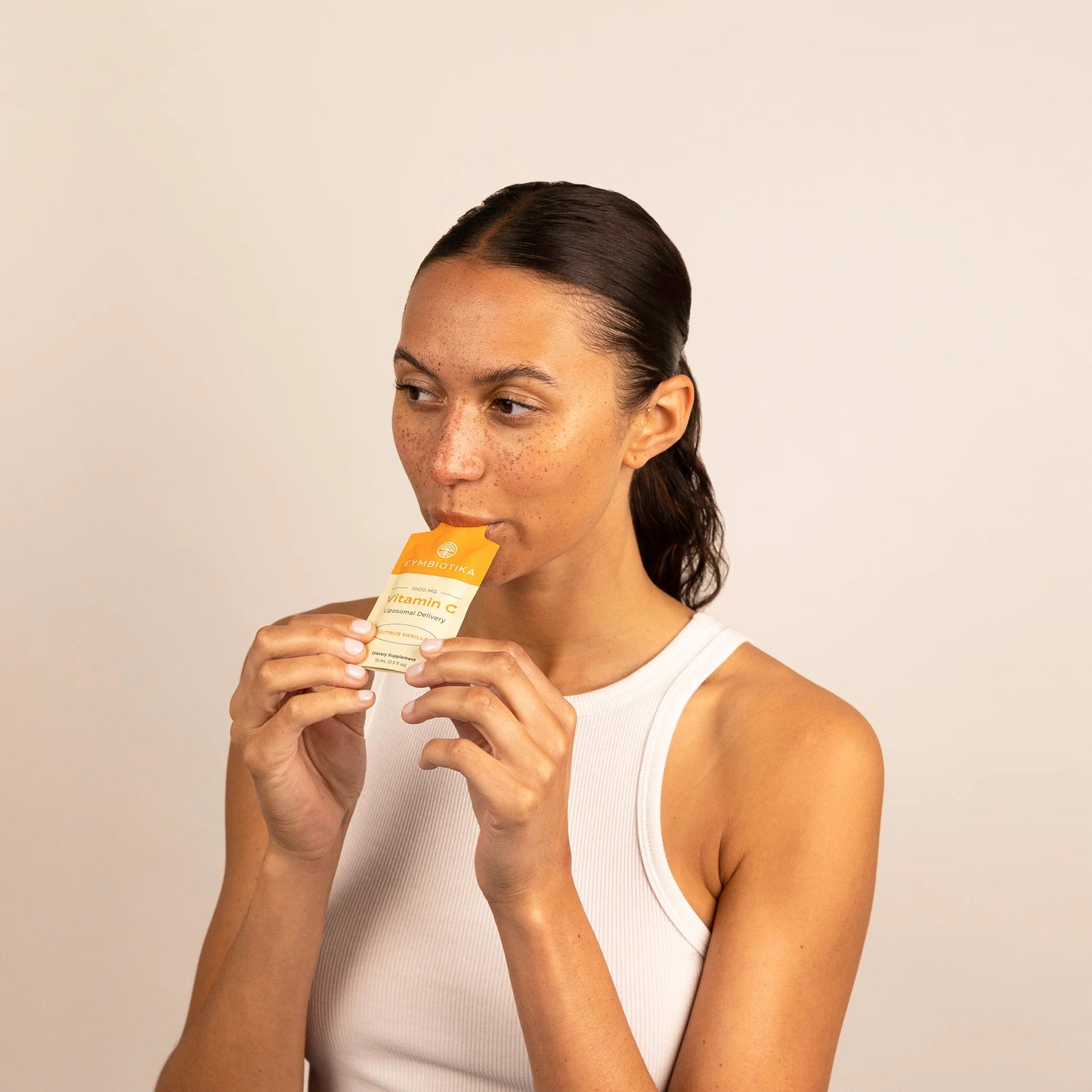 CYMBIOTIKA | Vitamin C
Highlights

Benefits:
- Supports healthy aging
- Boosts collagen production
- Supports healthy immune system

Highlights:
- GLUTEN FREE
- KETO FRIENDLY
- SOY FREE
- GMP CERTIFIED
- PLANT BASED
Ingredients

ACTIVE INGREDIENTS: Vitamin C (from Ascorbic Acid (80%) and Sodium Ascorbate (20%)), Potassium (from Potassium Bicarbonate), Biotin, Phosphatidylcholine


INACTIVE INGREDIENTS: Organic Glycerin, Purified Water, Konjac Root, Organic Vanilla Extract, Citrus Pectin, Organic Orange Peel Oil, Vitamin E (as D-Alpha Tocopherol), Malic Acid, Beta Carotene, Organic Citrus Extract, Citrus Bioflavonoids
How To Use

1 pouch (10 mL) daily.

Squeeze entire contents of pouch directly into mouth or stir into your favourite beverage.

Store in a cool, dry place away from direct sunlight.

30 pouches per container.